Your cash flow strategy is a relative measure of your business profitability! Manage your cash flow efficiently with these five tricks.
"The three most dreaded words in the English language are 'negative cash flow.' – David Tang, a businessman, and philanthropist.
One of the biggest nightmares for any small business owner would be to have a negative cash flow. Even if the business is profitable, a negative cash flow can create problems for you to sustain your business.
So, how do you manage your cash inflow and outflow more efficiently and ensure a positive cash flow?
We have five easy-to-implement tips for you that will help you understand your cash flow strategy and its importance. These tips will also help you understand the areas where you can focus more to maintain desirable cash in & cash out in your business.
Understanding the Cash Flow Management 
Cash is the king and your business cash flow management is crucial for your business growth.
Your business cash flow is the money you receive in your hand or in the bank and the money you actually pay. It is important to note that in a small business, you will have credit sales or purchases. Anything that is done without the exchange of cash is not considered cash outflow or inflow.
Hence, your cash inflow and outflow consists of only those transactions that involve cash inflow or outflow. For example, paying AED 1,000 subscription fees to a business newsletter via bank transfer is your cash outflow.
But why should you manage your business cash inflow and outflow? What is its importance? Let's look at your cash outflow and inflow management's impact on your business.
Impact of the Cash Flow Management on Your Business
Managing cash inflow and outflow is not everyone's cup of tea, but with the right approach, you can be more efficient in maintaining a positive cash flow. Let's see the importance of cash flow management on your business:
– Cash flow is the liquidity measure of the business. It tells you how much amount of money on hand you have in your business to deal with emergency requirements.
– It is a crucial element of working capital management since your working capital tells you how much amount of cash you generate and consume. You should receive more cash than you spend.
– It indicates how much in-hand revenue you have in your business. When you make sales, not all sales are made in cash, some of your sales income is earned after certain months. Thus, the cash flow management will provide you with how much cash you received from the sales you made and how much cash is yet to receive for which the sales are already done.
– The cash flow management strategy will help you manage business finance more effectively. Because when your cash inflow and outflow is well-managed, you will have more scope to improve on the other parts of your business finances.
– The efficient management of your cash inflow and outflow will ensure smooth cash inflow to your business. If you know how to manage your cash inflow and outflow, you will find it easier to maintain a positive cash inflow.
Thus, cash flow management is crucial for the sustainability and growth of your business. Let's deep dive into the five tips to manage your cash flow efficiently for your small business.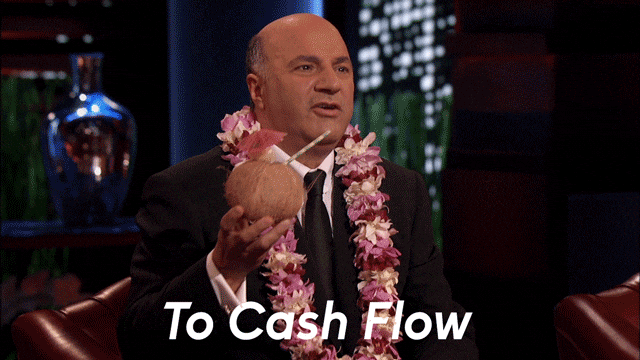 5 Cash Flow Management Tips for Small Businesses and Startups
To understand the profitability of your new startup, just look at your business cash flow, and it will tell you how your business is growing financially. Below are five cash flow management tips to help you improve your cash inflow and outflow and maintain positive cash flow for your business.
1. Be Consistent in Bookkeeping
Yes, bookkeeping streamlines all financial transactions in your business, and it will help you better understand your cash inflow and outflow. When you regularly record accounting entries and be consistent in bookkeeping, you can quickly generate your cash inflow and outflow statement and make further decisions to manage the cash inflow and outflow.
Read Bookkeeping 101: Essential Guide For Startups & SMBs to know more about how to record accounting entries.
2. Project Your Profits
Always predict how much profit you will make in a financial year by projecting your sales and expenses. Projecting your income and expenses will give you a fair idea of an estimated profit for the year, which will help you implement effective cash inflow and outflow management strategies.
Tip: It is a good practice to prepare projected financial statements to implement an effective cash flow management strategy. It will help you make informed decisions on the cash outflow and inflow of your business.
3. Recover Fast, Pay Slow 
One of the best practices to manage cash inflow and outflow and ensure a positive cash inflow is to recover fast and use as much credit as possible. It means you must efficiently manage your invoicing and recover from your customers.
You also need to use credit periods your creditors allow you to pay their invoices. When you follow this strategy, you will easily maintain a positive cash inflow
4. Assess and Analyze Your Cash Flow
Once you have projected your profits, you also need to project the cash inflow and cash outflow for your business. Assessing your cash inflow and outflow will help you better understand your business's cash inflow and outflow patterns. It will also help you manage your cash in and out in the most structured manner.
How to effectively assess the cash outflow?
– Review cash inflow and cash outflow from operating activities such as sales, purchases, etc.
– Analyze cash inflow and outflow from investing activities such as buying or selling a fixed asset or other investments.
– Consider cash flow from financing activities such as loan repayment, raising funds, etc.
5. Optimize Use of the Credit Facilities
When you plan to buy big machinery or software for your business, consider borrowing money through loans or other forms of credit facilities. They will allow you to pay in installments and save you from a huge cash outflow.
Thus, it will avoid the instant cash draining at the time of purchase, and you will be saved from a negative cash flow.
Manage Your Business Finances Efficiently
You can automate your bookkeeping and invoicing with Xpence and stay ahead of managing your cash inflow, outflow, and business finance more efficiently. The auto bookkeeping feature allows you to input only minimum information, and the bookkeeping will be done automatically.